Located on Buckeye Lake in Millersport, Ohio – Alexander's Landing offers you the products and services you need and all from a local, historical, family-owned Marina.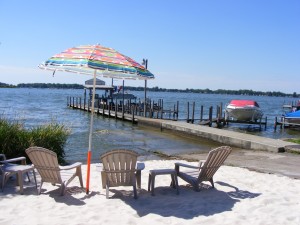 Crest Pontoons
Mercury & Mercruiser
Mercury Parts & Accessories
Shore Station Hoists
Marathon 90 Octane Recreational Fuel
PreOwned Boats
Alexander's Landing is a full-service marina offering Crest Pontoons, Mercury and Mercruiser – including a complete line of boating accessories and parts.  Services include boat mooring, winter storage, marine pump-out and non-ethanol gasoline (Marathon Recreational 90).
History & Family
With over three generations of assisting Central Ohio as the ultimate full service marina, we're dedicated to providing the most advanced and proven line of marine design and power at a competitive price.   Read more about our Historic Site here.
Proud Community Sponsor
2013 Friends of the Buckeye Lake Library 5K Walk – June 2013
BLASST Supporter – Buckeye Lake Area Star Spangled Tradition – July 2013
Contributor of Millersport High School "After Prom Committee" – April 2013
Corporate Sponsor of Millersport Athletic Boosters – June 2013
---
In Memory: Donald Jesse Alexander
Lifelong OSU Buckeye Fan and Alumnus, dies at 89
Donald Jesse Alexander, lifelong Ohio State University Buckeye fan and alumni, passed on Friday, January 4, 2013 at Fairfield Medical Center, Palliative Care.  Don was best known for his passion for OSU, TBDBITL, bass fishing, attention to plants and flowers, as well as his dedication to a family-owned marine business on Buckeye Lake in Millersport, Ohio.
Donald Jesse Alexander was born February 16, 1923, to the late Dora (Beiran) and George Alexander of Columbus, Ohio.
Don was the youngest son of George Alexander who formed a marine business on the south side of Buckeye Lake in Millersport, Ohio.  The business, dating back to 1870, was named an historical landmark by the Greater Buckeye Lake Historic Society in 2004.   Originally known as "Hamilton Place", Don's great great Grandmother operated the business as a boat rental and boat landing, as well as a hotel and stable.  The business name was changed to Alexander's Landing in 1925.
Don was a graduate of Walnut Township High School in Millersport, Ohio.    He served in the Pacific Theater during WWII as a paramedic.  After the war Don completed his education at The Ohio State University graduating in 1948.  He joined the family business following his college graduation; a lifetime career until his retirement.  Don was a member of the Fairfield Baptist Church, Altura Masonic Lodge 537 F&AM, American Legion and served as a board member with Walnut Township School District.
Survivors include his wife, Mary Jo (Fisher) of Millersport, a brother George Alexander of Homestead, FL, sons Chris (Grace) of Millersport, Eric (Robin) of Naples, FL and daughter Anita Alexander of Millersport.  Nephews, Michael Boyer (Lonnie) of Outsville, Mark Boyer (Debbie) of Logan, Melody (Albert) Boyer of Millerport.
Besides his parents he was preceded in death by his sister Harriet Alexander-Boyer, of Columbus and nephew, Albert Boyer of Millersport.
Don will be resting at the Fairfield Baptist Church Cemetery.  A memorial service is being scheduled for a later date.
In lieu of flowers, memorial contributions can be made to: Fairfield Baptist Church
7991 Old Millersport Road NE, P. O. Box 247, Thurston, Ohio 43157
---
Award Winning Services
Alexander's Landing is the recipient of many awards including the Mercury and Mercruiser Premier Dealer Award and Top Customer Service Award.
Our Service Department offers a certified Master Technician on Mercury Outboards and MerCruiser stern drives and inboards.  This certifies the technician meets all Mercury/MerCruiser qualifications, demonstrating outstanding performance and providing the highest standards of service for Mercury Outboards and MerCruiser stern drives and inboards.
Alexander's Landing is a member of the Boating Association of Ohio (BAO), Marine Retailers Association of America (MRAA), and Central Ohio Marine Dealers Association (COMDA).
Check out our WBNS 10TV Weather Bug Cam!  Whether you live nearby or live outside the Buckeye Lake region, you can see year-round the most up-to-date weather conditions for Buckeye Lake, via our camera link.